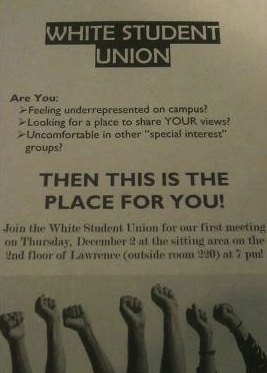 Originally posted at American Thinker.
West Chester University, based in West Chester, Pennsylvania, is presently embroiled in a debate over flyers advertising the establishment of a "White Student Union." According to school officials, the flyers were part of an effort to "organize students who are against racism." While that may be true, the dither over a potential student union raises questions and concerns far deeper then the formation of a campus club.
For years now it's been commonplace for  black, Caribbean, Haitian, Asian-Pacific Islander, and Native American students, as well as an untold assortment of subgroups, to establish clubs on college campī across the nation. The supposed goal of cultural/racial college club affiliation is to provide an enriching atmosphere, address the specific needs and concerns of racial and ethnic groups, and offer opportunities to learn about the varied cultures, mores, and distinctions specific to students attending American colleges and universities.
However, rather than fostering on-campus unanimity, in essence, higher education has, in the name ofsensitivity, funded and supported segregation by encouraging the formation of clubs according to skin color, gender, country of origin, and sexual orientation. The only categories excluded from the standard club lineup are those that represent concerns and interests specifically germane to the white student.
The West Chester University (WCU) student body is 86% Caucasian, yet the campus majority is underrepresented in club formation opportunities granted the remaining minority population. According to the National Center of Educational Statistics (IES), as of 2009, there were 4,409 degree-granting institutions in the United States. Of those colleges and universities, it appears that practically nonesponsored or supported campus-based white student unions.
Not only that, but at WCU, the flyer controversy was further compounded by the reaction university officials had to the words "White Student Union." The provocative word "White" was printed on the bogus flyer, which ordinarily would be warmly supported if "White" weren't the adjective describing the "Student Union."
The flyer addressed the following: "Feeling under represented on campus? Looking for a place to share your views? Uncomfortable in other 'special interest' groups? Then this is the place for you."
The questions and subsequent proposal directed toward potential members was met with campus-wide "voiced concern" coupled with confusion and worry "about formation of a racist organization." In addition, there were investigations, contrite explanations, and clarifications that white students forming a club "wasn't meant to be harmful." All of this was followed by prompt removal of all the flyers.
Pam Sheridan, "university spokeswoman" — rather, spokesperson — assured concerned students that "[t]here is absolutely no White Student Union here. There absolutely isn't going to be a meeting." Sheridan's emphatically inclusive, non-divisive statement "absolutely" guaranteed the worried student body that white students would not be utilizing facilities in, or receiving funding from, West Chester University's Student Union.
One member of the campus-sanctioned and approved Black Student Union (BSU) "felt the flyer was done in poor taste." According to the administration, the club invitation was "part of an effort to organize students who were against racism." Yet BSU member Briana Rollerson shared the perception that the announcements were "mocking the Black Student Union."
Granted, the flyer did depict seven raised fists. However, rather than automatically believing the photo was a purposeful effort to convey a message of racial mockery, why not err on the side of a poorly thought out depiction of unified solidarity?
The Climate Intervention Team, a group "committed to a safe, inclusive, diverse and civil environment," in response to a flyer whose wording was free of hostility, racism, and intimidation, rushed to the rescue and offered a mea culpa on behalf of the university. The apology said, "We regret deeply the discomfort that [the flyer] has caused segments of our campus." The WCU intervention team reassured the concerned student body that the White Student Union was, indeed, a fictional group and soothed disturbed students with the assurance that at West Chester U an "inclusive…diverse" campus environment would continue to be strictly enforced.
One student, "who asked to remain anonymous," shared the always-dangerous-to-express opinion that "the university should avoid clubs that are classified by skin color. At the same time, the student said because there is a Black Student Union it would be OK to offer a 'European Student Union.'" Would that be "European" in lieu of "White"? The student went on to say, "It would be more about an educational thing – learning about different cultures, not about race."
The whole situation raises the question: How long will it take for academia to realize that allowing students to segregate themselves in clubs according to skin color or ethnicity does nothing to promote a collegial atmosphere — that instead, as witnessed at West Chester University, the process contributes to divisions that stir up irrational hostility?
The fact that a college supporting organizations like the Black Student Union, Black Men United, LGBTA (Lesbian, Gay, Bisexual and Transgender Association), INDO (Indo-American Association), and Sisters United felt obligated to apologize for a flyer that merely substituted the word "White" for "Black," "Latino," or "gay" is unconscionable.
The disturbing part of the whole scenario is the reality that liberal institutions of higher learning, in the name of multiculturalism and diversity, are unabashed hotbeds of inequity. Doesn't political correctness pride itself on upholding the tenet that all Americans, regardless of gender, sexual orientation, or race, should be equally afforded the same opportunity?
A flyer advertising a White Student Union posted on a college campus by an anonymous prankster is not the most troubling part of the story. The larger matter is the subsequent apology and the fact that discrimination directed against the one group is tolerated, as well as the preconceived notion that when whites gather, under any pretext, it's for detrimental or racist reasons. Demeaning inferences that suggest white bigotry, wherever they are made, should evoke the same offense as vile stereotypes being unfairly attributed to black and Hispanic males.
Academe, the supposed bastion of freedom of speech and non-judgmental acceptance, rather than financing and fortifying reverse discrimination, should oppose on-campus divisiveness. Thus, the White Student Union controversy presents West Chester University a unique opportunity to be the first of 4,409 institutions to voluntarily begin to encourage both students and ordinary citizens to view themselves as part of a larger national family whose identity is first and foremost American.