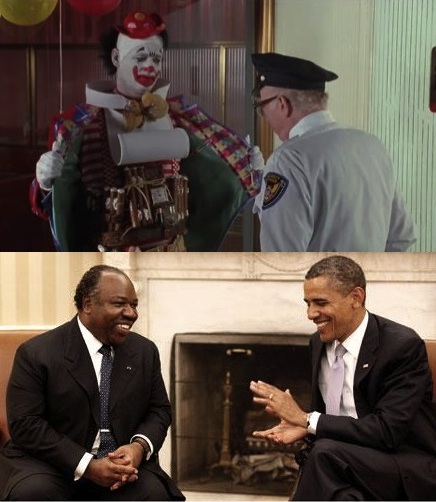 Originally posted at American Thinker.
A full-time mother/part-time clown in Pennsylvania admitted she glued on a "red nose and a rainbow wig," entered a bank in Easton, threatened that she had a bomb, and managed to make off with $7,000. The woman, who should be called the Bozo Bandit, apologized and used the excuse that a kidnapper abducted her children and made her dress up like a circus entertainer before committing the crime.
Full of remorse, the woman pleaded guilty to felony robbery.  Her defense attorney emphasized that at the time of the heist his client was simply "concerned for the safety of her two children," a tale of woe that should garner some sympathy from the judge when Clownie is sentenced later this year.
The moral of the story: People who steal generally wear a disguise and always have an excuse when robbing one group, which they always claim is to benefit another.
Coincidentally, right around the time Clownie appeared in court to explain the circumstances behind threatening to blow up innocent people if the bank teller didn't fill the bag with cash, another more extravagant heister was visiting a smooth bandit living in the White House.
For the record, dictator Ali Bongo Ondimba doesn't wear oversized clown shoes or ride a unicycle, but he does wear a costume and has managed to "ruthlessly plunder billions of dollars" from Gabon.  Barack Obama, on the other hand, masquerades as a concerned leader while using political sleight-of-hand to pick the pockets of millions of Americans in an attempt to institute economic collectivism – sort of like a mother robbing a bank for the benefit of her children.
Even still, the lady in Pennsylvania and even Mr. Obama are greenhorns compared to the Bongo family, which has "ruled the impoverished African nation of Gabon with an iron fist for five decades and have used its oil riches to fund a life of outrageous luxury."
And while Ali Bongo will likely be offered an elegant snack while visiting the White House, "one third of people" his regime oppresses "live on less than $2 a day" while "thousands starve to death each year or are forced to pick through garbage to find food."
Which raises the question: Why is President Obama trying to "curry favor" with another dictator?  While contributing billions to Brazil's oil exploration and yet still against drilling for oil here in America, according to some the US president agreed to meet with the leader of the "third-largest oil producer in sub-Saharan Africa…to secure America's fuel supplies" – which could be described as a sophisticated heist that makes Ali Bongo richer and oil-dependent Americans poorer.
Barack Obama has a unique style of executing hold-ups and has contributed to de-evolution of the American quality of life, albeit thus far to a lesser degree than Ali Bongo has in Gabon.  Which must be why the President seems to have no problem with a leader having "dozens of luxury homes in places like the French Riviera and a $120 million 14-bedroom townhouse in Paris," while his people go hungry.
Moreover, it's also possible that President Obama relates to Bongo having a wife who "balked at the idea of moving into a property that cost a mere $25 million," after offering the following explanation: "I've tried to downsize, but it's just not in my character."
Hearkening back to the clown robber in Pennsylvania, it's important to remember how robbers conjure up excuses when pilfering, and if theft can be justified in the mind of the rustler, then who's to judge?
Jack Blum, a United Nations consultant and expert on offshore banking, said that the meeting with "Mr. Obama sends out the wrong message," which explains the meeting.  With Mr. Obama's track record that's probably why he's meeting with Bongo.
Blum maintains that "over the years the Bongos had siphoned off a quarter of Gabon's GDP which has made them 'incredibly rich.'" According to Mr. Blum, "there's absolutely no shame …I would say that the people who are running the country are guilty of grand theft nation."
Jack Blum obviously isn't privy to the reasoning behind Ali Bongo devastating the Gabonese economy for his own benefit.  Although the circumstances are different, as evidenced by a lady dressed up like Clarabell, if a kidnapper is holding your children captive, robbery is justified.  Moreover, in the spirit of "Let's Move," if Bongo is at least using the monies to fill the garbage dumpsters in Gabon with healthier leftovers, or attempting to "share the wealth" in the form of an expanded food stamp program, robbery is also justifiable, with or without a clown get-up.
White House Press Secretary Jay Carney admitted Bongo has a "less than sterling record." Does 'less than sterling' include stealing, dictatorial oppression, fostering nationwide poverty, and a life of outrageous luxury being flaunted in the face of the destitute?
Carney's anemic censure might as well have been justifying a person robbing a bank wearing a clown nose.  Carney made the excuse that "The president of Gabon is making reform efforts, which we support" and that "Gabon has been an important partner in some of the issues that are very important to American national security." Like what?  Plundering economies and selling nations down the river to their enemies? Leaving porous borders open to drugs and violent criminals? Instituting a soft tyranny and elevating an elitist class shod in expensive finery who jet-sets around the world on the tax dollars of hard-working people struggling to buy a gallon of gas?
Regardless of differing attire or varied technique, from the high halls of power to a petty crook escaping with a couple grand in a shopping cart, filchers are all the same.  Those who steal from others always conceal their true intent and when caught in the act make excuses for the crime.
Whether it's Bozo terrifying bank tellers with a bomb or starving Gabonese diving into dumpsters while a dictator siphons off the proceeds of an oil-rich nation, or American citizens being subjected to a social experiment overseen by a burgling clown in a Hart Schaffner Marx suit, whoever they are and wherever they're from, common thieves are all the same.