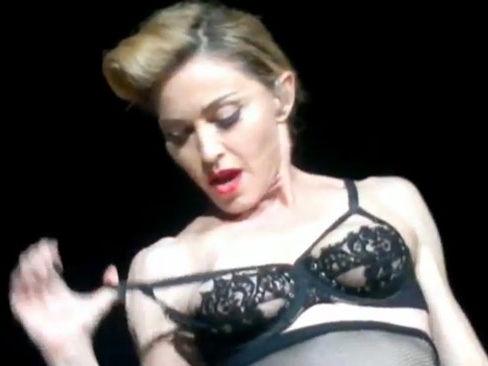 Originally posted at Breitbart's BIG Hollywood
Madonna is at it again.  The woman with the insatiable appetite for attention – any attention – is making news on her worldwide MDNA tour.
With the way this over-the-hill exhibitionist is behaving, instead of the title of her album and tour being a play on club-drug MDMA (Ecstasy), "MDNA" should stand for "Menopausal Diva Needs Attention."
Over the last 30 years the entire world has been intermittently subjected to the Material Girl in various stages of undress. Before her previous Latina/Evita phase and more recent faux-British phase, a coffee-table edition of her exhibitionist book entitled "Sex" even treated the public to a totally nude Madonna hitchhiking.
Since then, Madonna's estrogen levels have greatly diminished, but not her desire to shock. So that's probably why Madame Ciccone felt it was her civic duty, as if anybody cares, to update the public as to the changes middle age inflicts on a woman's body.
While in Turkey on tour, a woman too deluded to accept the fact that nobody cares what her nipples look like anymore, injected a huge dose of Granny disgust into the Istanbul show when she whipped out one boob while singing "Human Nature."
[youtube]http://www.youtube.com/watch?v=iRf86HWLim4[/youtube]
Early-onset senile dementia must be kicking in because Madonna criticized Janet Jackson for a similar wardrobe malfunction in 2004, when she called 
showing your nipples
 "cheap attention grabs."
So, according to Madonna, the intent of her "cheap attention grab" was to garner more press, up the shock ante, offend any traditionally Islamic members of her audience, and while she was at it, send a strong message to the male-dominated Muslim culture.
The 53-year-old must want Middle Eastern fans to know that if she gets the urge to act like a trollop, cultural mores will never prevent her from doing so. To drive home that point, Madonna scribbled "No Fear" on her back. By tattooing "No Fear" on her body, Madonna unintentionally conveyed to her audience another, more important message, which is that age does not prevent a grandstanding narcissist from embarrassing herself on stage when she should be home tucking in her children and sipping a cup of chamomile tea.
Besides, Madonna's "No Fear" pretense is a boldfaced lie. "Little Nonni" merely feigns fearlessness when she's flouting religious sensibilities, especially in a country where female modesty is mandated by law. She's also Ms. 'No Shame' when it comes to defiling a generation of other people's children with her lewd promiscuity, Godless message and self-masturbatory conceit.
But when it comes to accepting the reality of aging, Madonna is obviously riddled with fear. Moreover, up until now, a fearful Madonna tried desperately to preserve the purity and innocence of her daughters Lourdes (Lola) Leon and Mercy James and sons Rocco Ritchie and David Banda Mwale by shielding them from exposure to what she has purposely inflicted on other people's children for the past 30 years.
Madonna has apparently decided it's about time to expose her offspring to their mother's unique brand of perverted antics, so she took Lourdes and Rocco on tour with her. From a mother's perspective, it really doesn't matter who Madonna thinks she is; subjecting her own children to watching her writhe around on stage depicting violent, sadomasochistic pleasure borders on child abuse.
It calls to mind Cher singing "If I Could Turn Back Time" on the deck of the USS Missouri in front of a group of sailors, skipping around in a fishnet body stocking while her 12-year-old son Elijah Blue Allman played backup on the guitar with the band.
Nevertheless, apparently Madonna has decided to follow Cher's lead because Lourdes and Rocco are both fully involved in the production of the MDNA tour. Pre-teen son Rocco sings with the gospel choir in "Like a Prayer," break dances and gets to see Mom up-close and personal "stripped nearly naked and tied up in a corset by a dancer, then dragged around the floor."
And as if that weren't bad enough, while Madonna exhorts the crowd to world peaceyoung Rocco witnesses gun violence complete with images of "shattered skulls, brains, and blood splashing" across Jumbotron screens.
The real kicker occurs when this impressionable child gets to observe his mother cavort on the stage with a 24-year-old Kabbalah devotee/lead dancer with an apparent Oedipus complex named Brahim Zaibat.
Daughter Lola, whom self-described "disciplinarian" Madge used to prohibit from watching television, eating ice cream, and reading magazines, now serves as a backup dancer but mostly works backstage in wardrobe helping Mama slip her bony body in and out of bondage outfits, chains, and lingerie.
By inviting her children to participate in the tour, the ravenous-for-attention Madonna clearly disregarded the effect that a deliberate wardrobe malfunction would have on her own children, let alone anyone else's.
Perched center stage, unable to control the impulse to shock her audience, Madonna lowered one side of her brassiere like a mother preparing to nurse a baby before she remembered her nursing days are long gone and covered her teat.
Word to former children's book author Madonna from one 50-something to another: rather than look for new ways to make the world cringe with your perverse exhibitionism, maybe you should gather up your two kids and head home to whatever corner of the world you presently identify with.
And while you're there picking up a new fake accent, for the love of God, please start acting your age.
luchshie vechnie ssilki
лучшие вечные ссылки
лучшие вечные ссылки