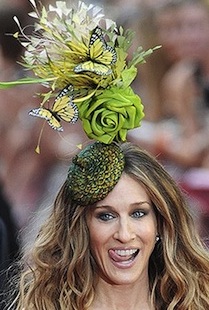 In some circles it is believed that Barack Obama brought "sexy brilliance" to the White House. Now he's bringing that sexiness to "Sex and the City" star Sarah Jessica Parker's New York City home for a sexy fundraiser.  The event is called "A New York Night," and is being hosted by Mrs. Ferris Bueller and Vogue magazine mogul/"Devil in Prada" Anna Wintour.
The dinner will be held in the West Village townhouse Sarah shares with her husband, star of stage and screen Matthew Broderick, and three children: surrogate twin girls Marion Loretta, Tabitha Hodge and biological son James Wilkie.
Michelle Obama recently called Sarah Jessica "a loving mom, an incredibly hard worker, and a great role model." No doubt she was thinking of Sarah Jessica's HBO hit series where that "great role model" Carrie Bradshaw had sex with more men than she had shoes in her closet.  Now, in anticipation of the fashion-studded fundraiser Parker has been busily hunting down and flushing out the dust bunnies.
Since it's likely that Sarah's small children drop Cheerios in between the couch cushions, Anna Wintour and daughter Bee Shaffer arrived early at the actress's townhouse to make sure that, before Barry and Michelle show up for dinner and trip over a stray Lego, the nanny gathers up the all the toys.
In preparation for the chichi event, the Brownstone Brothers were seen offloading a console piano and lugging it up the steps and into the Parker-Broderick residence.  Besides needing a piano for the scheduled Mariah Carey concert, renting one could be a clue that "that guy" Barack Obama might be planning to surprise donors by tinkling on the ivories.
If not, notables like Vera Wang and Kenneth Cole can always gather 'round the piano, pink Cosmopolitans in hand, and sing along with Sarah's husband Matthew Broderick, star of the Broadway musical "Nice Work if You Can Get It."
Ironically, the show Broderick stars in features Ira and George Gershwin tunes with Obama 2012 themes such as "Let's Call the Whole Thing Off" and "Blah, Blah, Blah." The only thing that might top singing "I've Got a Crush on You" with Barack Obama in earshot would be Cher draped across the top of the piano singing of President Obama "He was a scamp, a camp and a bit of a tramp.  He was a V-A-M-P – Vamp."
Despite all the preparatory fuss, the "New York Night" festivities may start but do not end in the West Village.  After the first couple get their fill of "Sex and the City" over at Sarah Jessica Parker's place, the duo will cause additional gridlock in Manhattan by traveling to the Plaza Hotel, where "Sex and the City" series creator Darren Star and Architectural Digest Editor Margaret Russell are hosting another Obama 2012 reception/fundraiser.
Tickets for the second sexy event are $65,000 cheaper than the $80,000-per-couple Carrie Bradshaw bash and, if they let him out of the woodshed, will be co-hosted by repentant Newark Mayor Cory Booker. Frankly, trying to figure out what kind of exotic crudités Jessica and Anna could possibly be planning to serve for $80K per couple adds even more intrigue to the affair than speculating as to why a piano was hoisted up the front stairs of Sarah Jessica Parker's townhouse.
Piano or no piano, one thing the "Sex and the City" star has never been secretive about is her liberal proclivities.  The multimillionaire/former welfare recipient who considers the "free lunch program" a "stigma" is head-over-Manolo Blahniks for America's "Food Stamp President."
To prove it, in addition to taking up where the disillusioned Obama girl left off, balancing oversized phallic symbols on her head, and hosting big-money fundraisers, Jessica also volunteered to star in a campaign ad.  The spot aired during the MTV Awards where the visibly smitten actress, in her best Carrie Bradshaw voice, encouraged young voters to support "the guy who ended the war in Iraq, the guy who says you should be able to marry anyone you want, and the guy who created 4 million new jobs, that guy…Because we need him and he needs us."
To be fair, there is a measure of truth in what Sarah Jessica said.  If it weren't for Barack Obama, the Brownstone Brothers wouldn't have needed to pay extra men to drag the piano up the stairs into the actress's posh digs. And as for marrying anyone you want, Obama may have taken the first step toward redeeming the reputation of Mormon polygamist Warren Jeffs, step-daughter-marrying Woody Allen, the guy who married his dog and, if he should decide to take the plunge again, even Charlie Sheen, who expressed interest in marrying a tree.
Not to be outdone by "Throw Bo a Bone" and "Dinner with Obama" and hoping to top the $15 million generated by "Win Dinner with George Clooney," two-thirds of which consisted of small donations, both Parker and Wintour reached out to the dregs of the 99%.  For a $3 contribution donated at www.joinobama.com, hyperventilating Obama fans can enter a contest where the winner and a guest will be allowed to mill around at the Parker-Wintour event. The only stipulation: "Don't be Late," because Anna Wintour will not tolerate anyone – and she does mean anyone – other than the perpetually tardy Barack Obama of course, to show up late.
As the festivities draw near, Michelle Obama is so excited about rummaging through Sarah Jessica's clothes closet that she also felt compelled to shoot an email out to Obama supporters telling them that for a donation of $3 they too can fly coach to "A New York Night."  What she didn't tell them is that after they arrive, like the "Dinner with George Clooney" contest winners, they'll probably have to sit in the $3 donation section situated at the "back of the tent," or spend the evening at the children's table with the nanny and Sarah Jessica Parker's three kids.