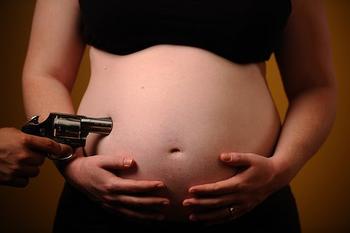 Originally posted at American Thinker. blog
One of the most stunning attributes of liberalism today is duplicity.  What other group uses legality as a basis to defend exterminating the unborn, yet when it comes to owning a handgun, legality becomes irrelevant?
From the White House to Your House, the push is now on to paint gun owners in a negative light and clearly, it's working.  For example, in an effort to better serve New York's Westchester and Rockland Counties, the Gannett-owned Journal News took it upon itself, without notifying the affected parties, to make public all the names, addresses, and telephone numbers of residents in the area with registered handguns.
The Journal News was so concerned about informing its readership of the prospective danger gun owners pose that it published a detailed interactive map with red and blue dots pinpointing the location of residents licensed to own pistols or revolvers and permit holders who "have purchased a firearm or updated the information on a permit in the past five years."
Until recently, it was thought assault weapons were the menace.  Now, owning a gun, any gun, is right up there with committing a sex crime.  The Journal News' address listing might as well have been a sex offender registry because gun stigma is now running a close second to being a convicted pedophile.  The only difference is that in the gun owner's case, no crime was committed.
Janet Hasson, publisher and president of the Journal News Media Group, defended making the databank information available when she said:
One of our roles is to report publicly available information on timely issues, even when unpopular. We knew publication of the database (as well as the accompanying article providing context) would be controversial, but we felt sharing information about gun permits in our area was important in the aftermath of the Newtown shootings.
For Ms. Hasson, publishing names, addresses, and telephone numbers wasn't enough.  It sounds as if Ms. Hasson is highly suspicious that every gun owner in America is a prospective Adam Lanza.
The disappointed newspaper publisher/president said that in the "aftermath of the Newtown shootings" her newspaper had "wanted to publish even more information." Maybe Janet feels the drive-by harassers she has already provided with directions to private residences would have also appreciated the political affiliation of all Rockland and Westchester County gun owners.
The Florida-based school for journalists, the Poynter Institute, disagrees with Journal News' tactics.
According to a Poynter Institute faculty member, "Unwarranted publishing of the names of permitted owners just encourages gun owners to skip the permitting."  That means that thanks to the newspaper's irresponsible actions, in order to maintain anonymity normally upstanding citizens may be driven to illegal gun ownership.
Despite the controversy, many defenders of the Journal News took to Twitter to express their anti-gun approval. One Tweet said: "The gun permit maps are an effective way of showing how horribly widespread gun ownership is." Excuse me, but "horribly?"  Another relieved parent thanked the Journal News, saying, "Please thank them. This could be a turning point. I do not want my daughter playing in a house with guns." Earth to Mom: kids have been known to drown in toilets, so are houses with bathrooms a problem too?
What is stunning about all this is the duplicitous left backing private information being made public. Apparently, in "right-to-privacy" circles, confidentiality only applies when it comes to the names, addresses, and phone numbers of individuals spotted at Rockland and Westchester abortion clinics.
And here's where the deceit really kicks in. Aren't these the usual suspects who scream "intimidation" when an old grandma spends her mornings praying the rosary outside an abortion clinic?
If, as Janet Hasson contends, "timeliness and popularity" surrounding an issue determines whether private information should be made public, wouldn't it be wonderful if Journal News could also provide all pro-life members of the community the names and addresses of those seen at the local Planned Parenthood clinic? After all, having a gun owner live next door is certainly a concern to anti-gun people, but to anti-abortion people, having a neighbor who's had an abortion living on the other side of the fence generates a ton of anxiety too.
Therefore, in lieu of a public database, the only hope that an intrepid journalist like Dwight R. Worley has to find a treasure trove of confidential abortion information is in a recycling bin or a dumpster.
So, it appears that all it takes to be branded a potential danger to society is a reckless newspaper publishing an article entitled "The gun owner next door: What you don't know about the weapons in your neighborhood." And, if that's the case, then fair-minded anti-gun liberals should be open to warning concerned Rockland and Westchester County anti-abortion residents about 'That woman next door: What you don't know about the abortions in your neighborhood.'