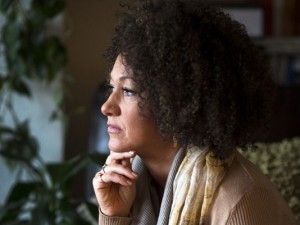 Originally posted at American Thinker.
Faux-black activist and head of the Spokane, Washington NAACP Rachel Dolezal either has a bad case of self-loathing, or, in a Bruce Jenner sort of way, identifies with being a black woman.
And who among the liberal left at this point is willing to tell Rachel Dolezal she's wrong?
When asked about falsifying her race, a measured and thoughtful Dolezal responded to the Spokesman-Review by saying, "That question is not as easy as it seems. There's a lot of complexities … and I don't know that everyone would understand that."
Remember, in the liberal mind there are no absolutes, so inflexible things like race and gender are not based on DNA; they're fluid.  Race, like gender, is relative, but not in a genetic way.
Think of it this way: Bruce, or Caitlyn, as he/she likes to call him/herself, needs lipstick and pantyhose to feel like his/her true self. Similarly, Rachel, whose mother said that as a child was "always interested in ethnicity and diversity," may just feel more like herself when standing in solidarity with Marilyn Mosby, plumbing the depths of African-American culture, speaking on race-influenced police violence, and sporting jheri curls.
And who's to say that what's right for Rachel Dolezal is wrong?  Who are we to question her reality?
Besides, thanks to Rachel Dolezal, now every unemployed African-American trapped in a Caucasian body can scream discrimination whenever they're turned down for a job; the majority can become a minority and join the fight to demand reparations; and best of all, Hillary Clinton can officially declare her black heritage and clinch the Obama vote in the next election.
Meanwhile, Ms. Dolezal's Caucasian birth parents Ruthanne and Lawrence claim their daughter is a white woman acting like a black woman and is "being dishonest and deceptive with her identity." Based on those closed-minded White European comments, it's clear Rachel's Czech/Swedish/German/with possible traces of Native American parents don't understand the liberal mind at all.
Unlike her mother and father, Ms. Dolezal is an interpretive dancer with an interest in green architecture and intercultural negotiating.  Those sketchy made-up avocations alone suggest that the now-infamous black woman imprisoned in a Caucasian body is, without a doubt, a certified liberal. Otherwise, why would her website say that if she were a wrestler her "finishing move would be 'A kiss?'"  Right there is a dead giveaway.
Also, according to her blogger website, besides having a Masters in Fine Arts degree from the historically black Howard University, the esteemed academic is also involved in community development, human rights education, and diversity counseling. Let's hope Rachel didn't counsel Barack Obama on how to bring diversity to wealthy neighborhoods, because if she did, the president is about find out that his integration attempts have placed white people pretending to be black people into neighborhoods he was hoping to diversify.
Either way, before judging Dolezal too harshly for suggesting that hair texture is what identifies a person's ethnicity and for figuratively dressing up in blackface, maybe there's a plausible explanation for what would otherwise be viewed as bizarre behavior. Regardless of how it looks, Rachel the artist may not be a scam artist at all.
An award-winning mixed-media painter/sculptor with dozens of exhibitions "in 13 states, internationally, and at the United Nations Headquarters," Ms. Dolezal's most notable artistic accomplishment may be her using her body as a canvas and successfully passing herself off as a female version of James Whitmore in "Black Like Me."
In place of deception or genuine struggles with transracialism, Dolezal, who oftentimes uses acrylic on strips of elk hide as a medium, may just be actively involved in an ongoing creative process.  It could be that for 20 years Rachel has been releasing artistic angst by reinventing herself as a black woman who esteems her race via long blonde hair extensions.
On her website, which features largely African American-themed artwork that includes a prophetic depiction of a black girl named "Pariah," Rachel also has a mixed-media piece she created entitled "Julia." The description under "Julia" details it as an acrylic-on-paper monotype from flesh.
Rachel created "Julia" in the following way:
When I am emotionally so connected to the creative process that I can't have a paintbrush between me and the canvas, I 'paint' with my body and hair… It's messy and painful, and the palette is restricted to nontoxic pigments, but the process is fulfilling and the results evocative.
In other words, similar to using John Boehner's favorite Benjamin Moore Coppertone shade 2161-10, when Rachel feels really creative she slathers her body and dips her hair in acrylic paint and, although "messy and painful," rolls around on canvases, which for all intents and purposes is what she's done on a canvas called her body for more than two decades.
Of another piece entitled "My Place," an acrylic on puzzle and panel, which is apropos coming from what appears to be a puzzled artist, Rachel says that the painting depicting a Cape Town, South African girl is about her "connecting parts of [her]self and finding [her] sense of place."
So in reality, if "reality" is an appropriate word to use here, this is probably not really a mentally disturbed self-hating white girl of European descent falsifying her ethnicity.  As a highly evolved artist with her own personal truths, perhaps Rachel Dolezal's 20-year "fulfilling and evocative" foray into "How to be Black" is merely another example of liberal artistic expression.